Today, a piece of news made Chinese fans feel particularly heavy: Wu Lei was diagnosed with the new crown virus. This news was first exposed by Spanish reporters, and was later officially confirmed by Xinhua News Agency and the Chinese Football Association.
今天,一则新闻使中国球迷感到特别沉重:吴磊被诊断出患有新的冠状病毒。这则新闻最初是由西班牙记者公开的,后来得到新华社和中国足协的正式确认。
There have been many stars who have played in the five major leagues confirmed to be infected with the new crown virus. Wu Lei is not the first one, let alone the most famous one. The reason why the fans are worried is not only because he is the first Chinese professional player to be diagnosed with infection, but also because he has always been the light of hope in the darkness of Chinese football in recent years.
在五个大联盟中都有很多球星被证实感染了新的冠状病毒。吴磊不是第一个,更不用说最有名的了。球迷们担心的原因,不仅是因为他是首位被诊断出感染的中国职业球员,而且还因为近年来,他一直是中国足球黑暗中的希望之光。
But this light is now shrouded in a new shadow.
但是现在,这盏灯笼罩在新的阴影中。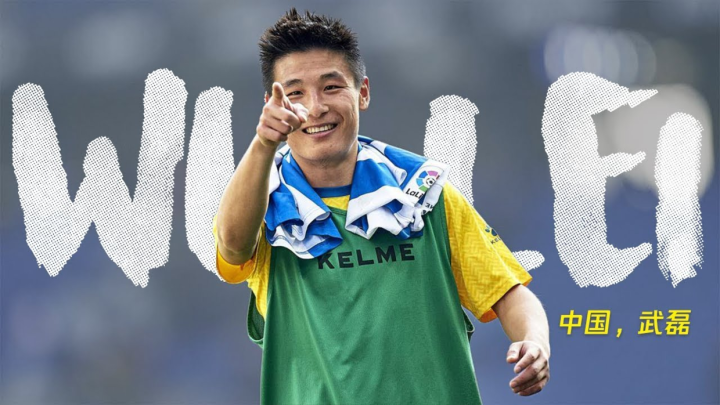 After the news that Wu Lei was diagnosed with the new crown virus came out, there were still a lot of harsh noises in the blessings.
在吴雷被诊断出患有新的冠状病毒的消息传出后,祝福中仍然有很多刺耳的声音。
Some people say: Wu Lei is now a Spaniard, you fans know that holding such foreigners.
有人说:吴磊现在是西班牙人,你们的球迷知道抱着这样的外国人。
Some people say: If he is patriotic, why did he go abroad to play football? Don't even think about coming back if you are sick now.
有人说:如果他爱国,他为什么要出国踢足球?如果您现在生病了,甚至不要考虑回来。
Some people say: Chinese football is so bad and the stars still take so much money. Now the diagnosis is completely deserved.
有人说:中国足球太糟糕了,明星们仍然花那么多钱。现在诊断是完全应得的。
On some platforms that know little about football, such voices are not just a few, and there are even a lot of brainless likes.
在一些对足球一无所知的平台上,这样的声音不仅是少数,甚至还有很多无脑的喜欢。
Seeing these words, my mood can only be described by the following expression.
看到这些话,我的心情只能用下面的表达来描述。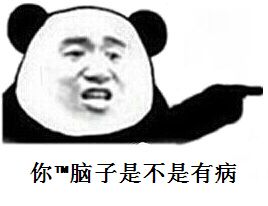 Not to mention that Wu Lei is a 100% Chinese, he just went to a club called "Spaniard" in La Liga. Being able to land in the five major leagues and score goals as a "weak country in football" is just like the idol in some people's mouth can actually land in Hollywood's first-line masterpieces and become the leading actor. It is a thing to be proud of.
更不用说吴蕾是100%的中国人,他只是去了西甲一个名为"西班牙人"的俱乐部。能够进入五个大联盟并成为"足球弱国"并进球,就像某些人的口中的偶像实际上可以进入好莱坞的一线杰作并成为男主角一样。这是值得骄傲的事情。
What's more, you can complain about all kinds of negative news about Chinese players, but you can't use these words to criticize Wu Lei in general.
而且,您可以抱怨有关中国球员的各种负面消息,但您不能用这些话来批评吴磊。
Because in him, you can't see those lavish fights, you can only see the following stories.
因为在他里面,您看不到那些奢华的战斗,所以您只能看到以下故事。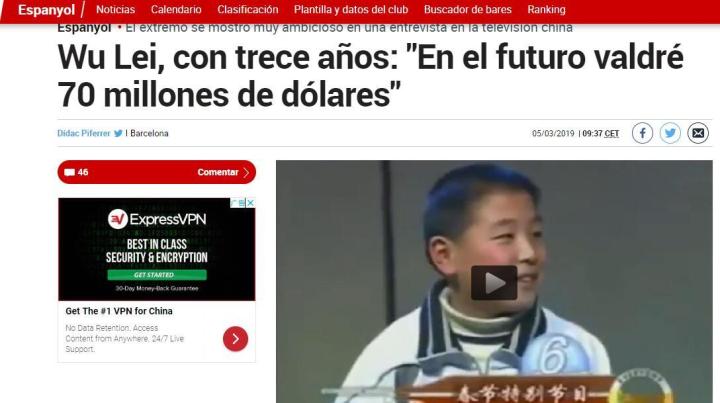 When he was a teenager, he made bold words on TV shows, saying that he "just want to be a star and hope that his future worth can reach 60 or 70 million US dollars." Even if he is the youngest, shortest and lightest on the team. That, but he still tried his best to train hard and stay away from eating, drinking and having fun, and step by step from the Chongming Island youth training base to the Chinese national team, from the Chinese Super League to the top level of the European league La Liga.
十几岁的时候,他在电视节目中大胆地说道,"他只是想当明星,希望他的未来身价能达到60或7000万美元。"即使他是球队中最年轻,最矮和最轻的。那样,但是他仍然尽力训练,远离饮食,娱乐,并逐步从崇明岛青年训练基地到中国国家队,从中国超级联赛到最高级别。欧洲联赛西甲。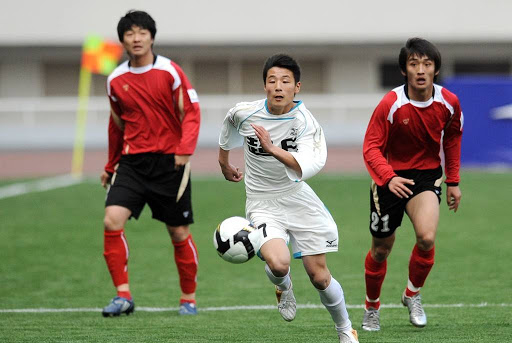 When he was facing a financial crisis in East Asia in Shanghai, Xu Genbao, he took the initiative to send an email to his mentor and said, "The transfer is completely up to you. I hope that our group will work together, even if we come back again." He also publicly stated to the media after the East Asia's success. : "Going to other clubs may earn more, but staying in East Asia is the best choice. Even if you take less money than others, as long as you are at the Super League level, you will be satisfied."
当他在上海面对东亚地区的金融危机时,徐根宝主动发送一封电子邮件给他的导师,并说:"转移完全取决于您。我希望我们的团队能够共同努力,即使我们再回来。"在东亚取得成功之后,他还向媒体公开发表了讲话。他说:"去其他俱乐部赚钱可能会更多,但是留在东亚是最好的选择。即使你花的钱比其他俱乐部少,只要你处于超级联赛水平,你就会感到满意。"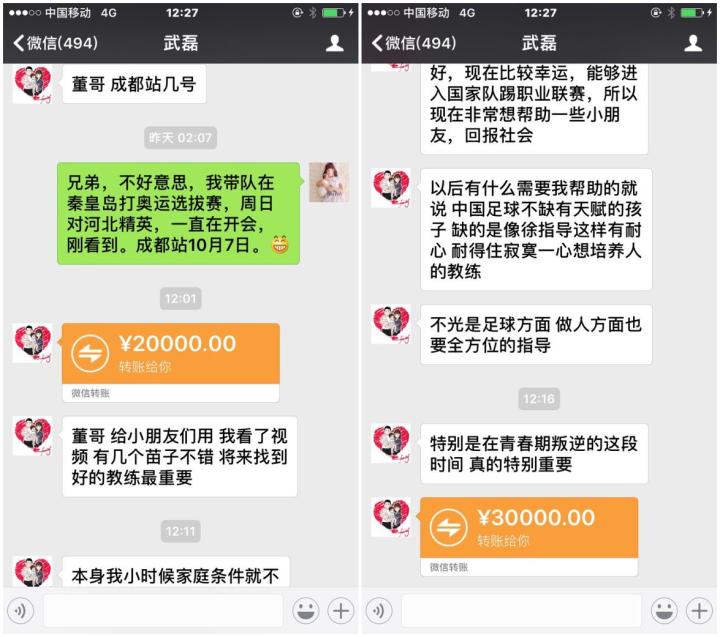 After becoming a domestic first-line star, others couldn't wait to change into the luxury car mansion, but Wu Lei drove a car provided by a sponsor, and was often photographed by fans taking the subway. However, when funding young players and poor children, money really becomes just a number for him. More importantly, in addition to giving money, he also pays special attention to cultivating children's comprehensive guidance in life.
在成为国内一线明星之后,其他人迫不及待地想换成豪华车豪宅,但吴磊却开着赞助商提供的汽车,而且经常被乘地铁的车迷拍照。但是,当为年轻球员和贫困儿童提供资金时,金钱确实对他来说只是一笔数目。更重要的是,除捐钱外,他还特别重视培养儿童的生活综合指导。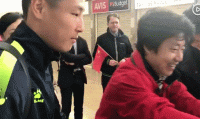 Last July, Wu Lei accompanied the team to the UK to participate in a friendly match. Before the game, he not only fulfilled the wishes of all local Chinese fans who came to receive the wind to sign and take photos, but also took the initiative to remind the fans: "The national flag cannot be signed." This respect for the national flag was praised by domestic fans and the media.
去年7月,吴磊陪同团队前往英国参加友谊赛。赛前,他不但满足了所有来访的中国球迷的意愿,还签名提醒他们拍照,并主动提醒球迷:"国旗不能签名。"这种对国旗的尊重得到了国内球迷和媒体的赞扬。
You said, is this a real high-quality idol? Where can those ignorant people spray? Really spray him to play in Spain, is the wings hardened to contribute to others?
您说过,这是真正的高质量偶像吗?那些无知的人可以在哪里喷药?真的可以让他在西班牙踢球了,翅膀是否变硬了才能为他人做出贡献?
It's ridiculous.
太荒谬了
Passers-by only know that the Chinese team can't play and you can't play him. What fans most envy is how many people from Japan, South Korea and other Asian football powers can play in the top European leagues. On the one hand, this represents the overall strength of the country's football, on the other hand, how much valuable experience can be learned from competing in the top field.
路人只知道中国队不能比赛,而你不能比赛。球迷最羡慕的是,日本,韩国和其他亚洲足球强国中有多少人可以参加欧洲顶级联赛。一方面,这代表了国家足球的整体实力,另一方面,可以从顶级领域的竞争中学到多少宝贵的经验。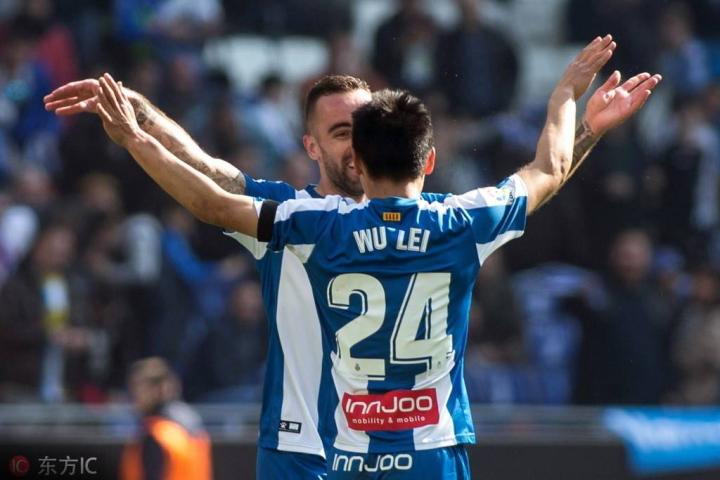 Before Wu Lei, China's last player to play in the top five leagues was Zhang Chengdong, 1130 days apart.
在吴磊之前,中国进入前五名联赛的最后一位球员是张成东,相距1130天。
Before Wu Lei started on behalf of the Spaniard, the last China to start in the five major leagues was Hao Junmin, after 2857 days.
在吴雷代表西班牙人开始之前,在5857年之后的最后一个进入五大联盟的中国是郝俊民。
Before Wu Lei scored a goal in Valladolid's game, China's last scorer in the five major leagues was Shao Jiayi, with 3731 days in between.
在吴雷亚搏电竞app网站在巴利亚多利德的比赛中打进一球之前,中国在五个大联盟中的最后得分手是邵佳一,其间的间隔时间为3731天。
There are still more than ten years!
还有十多年了!
Why do you think Wu Lei can be on the hot search every time he scores? Is it simply because the fans can only hold one person? That's because the Chinese fans have been hungry for this kind of news, and even more because of the collective pride that the Chinese can also stand in the five major leagues!
您为什么认为吴磊每次得分都可以成为热门搜索?仅仅是因为粉丝只能容纳一个人吗?那是因为中国球迷一直渴望得到这样的消息,甚至更多是因为人们对中国人也能参加五个大联盟感到自豪。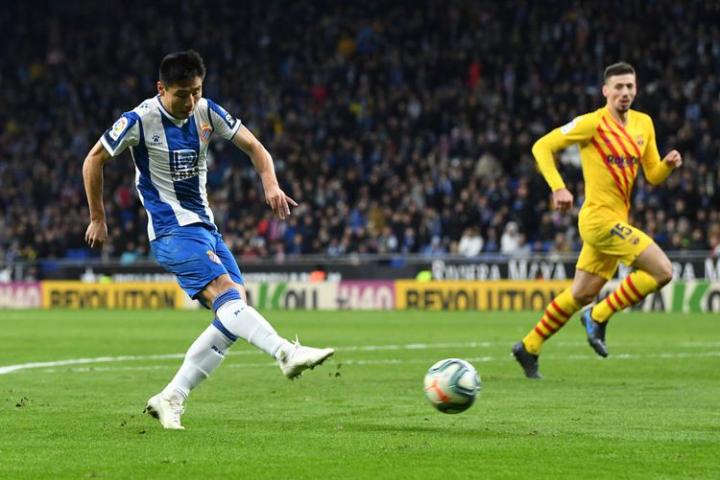 Of course, Wu Lei can play in the five major leagues, behind the background and support of Chinese-funded teams. However, the initial wave of Japanese and Korean players who stayed abroad also came from the strong support of domestic companies. In other words, China used to have capital and power, but is there someone else who can really look at the five major leagues instead of being a mascot to watch the drinking fountain?
当然,吴磊可以在中国支队的背景和支持下参加五个大联盟。但是,留在国外的日本和韩国玩家的最初浪潮也来自国内公司的大力支持。换句话说,中国曾经拥有资本和权力,但还有其他人真的可以看一下五个大联盟,而不是成为观看饮水机的吉祥物吗?
After coming to the Spaniard, Wu Lei became the team's main rotation player. Although it is not the core and not many goals, but can still use his forward penetration characteristics to play an extremely important tactical role.
来到西班牙后,吴磊成为球队的主要轮换球员。虽然不是核心,目标也不是很多,但是仍然可以利用他的前瞻性渗透特性发挥极其重要的战术作用。
In the last round of last season, after Wu Lei scored his third goal in La Liga to help the Spaniard rush into the European theater, local fans carried him around and cheered. Frontline media of traditional football powers such as Spain's "Daily Sports" and "World Sports", Britain's "Independence" and France's "Team" have published articles praising Wu Lei.
在上赛季的最后一轮中,吴磊在西甲打进了自己的第三个进球,以帮助西班牙人冲入欧洲大剧院,当地球迷为他加油助威。传统足球强国的一线媒体,例如西班牙的"每日体育"和"世界体育",英国的"独立"和法国的"团队",都发表了赞扬吴雷的文章。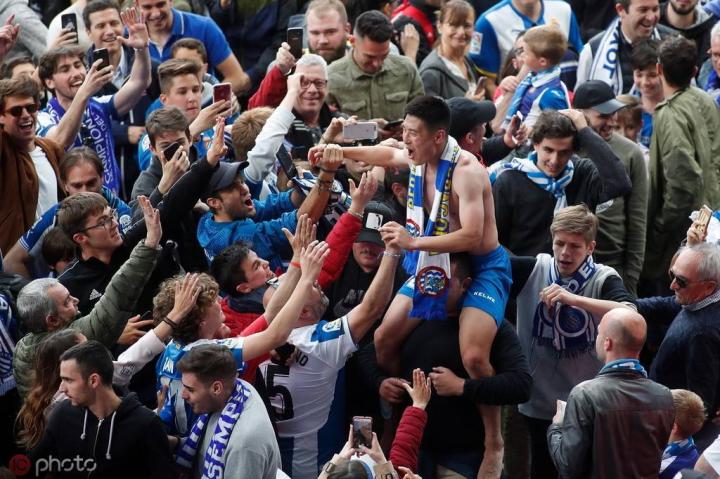 How long have you not seen such a concentrated positive affirmation of Chinese football or Chinese players from mainstream European society?
您有多长时间没有看到对中国足球或来自主流欧洲社会的中国球员如此集中的肯定?
Not to mention, Wu Lei scored the first goal of a Chinese player against the Catalan giants in the Spaniards and Barcelona this season, helping the team score an extremely valuable point in the derby.
更不用说,吴磊在本赛季在西班牙人和巴塞罗那对阵加泰罗尼亚巨人的比赛中攻入了中国球员的第一个进球,帮助球队在德比战中获得了非常宝贵的积分。
This goal is like a beam of light, bringing a small but tenacious hope in the overall dark environment of Chinese football.
这个目标就像一束光,在中国足球的整个黑暗环境中带来了渺小而顽强的希望。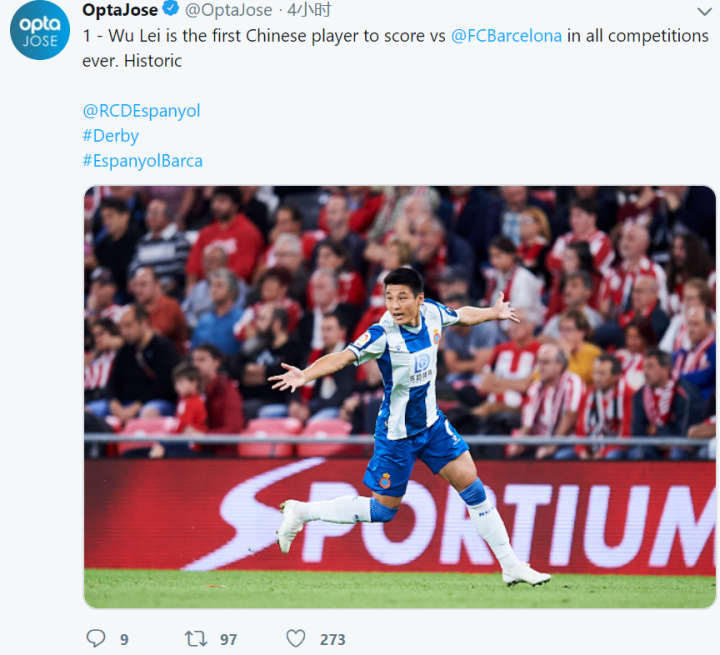 It is often said that no matter how many goals Wu Lei scores in the Spaniard, it will not help the improvement of Chinese football and the national team.
人们常说,吴磊在西班牙人亚搏电竞网站进球数不计,这无助于中国足球和国家队的进步。
I can only say that this view is really too one-sided.
我只能说这种观点实在是太偏了。
Yes, our football environment is very bad, and not many parents are willing to send their children to play football. Wu Lei's goal can only provide direct help for the Spaniards team, it is impossible to improve the environment by himself.
是的,我们的足球环境非常恶劣,没有多少父母愿意派孩子踢足球。吴磊的目标只能为西班牙人队提供直接帮助,不可能独自改善环境。
However, every goal and even every wonderful performance made the light of Chinese football in the five major leagues even more dazzling. Just such a little bit, there may be more children falling in love with football, and fewer desperate parents who thought that Chinese football could never stand up.
然而,每一个进球甚至每一次精彩的表现都使中国在五大联赛中的光芒更加耀眼。只是这么一点,可能会有更多的孩子爱上足球,而更少的绝望的父母以为中国足球永远站不起来。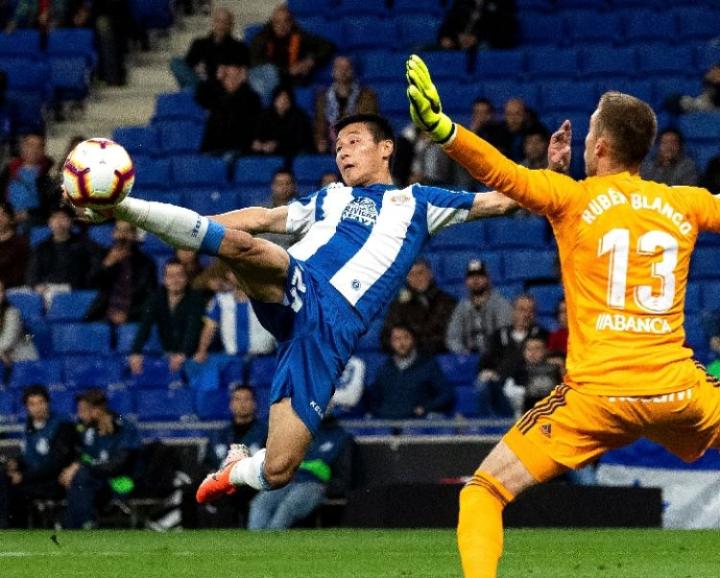 You can have your own opinion, or feel that Wu Lei cannot play in the five major leagues without Chinese help. You can also have your own attitude and feel that the jokes of those "Catalonia Kings" are too hot-eyed.
您可以有自己的见解,也可以感觉到,如果没有中国人的帮助,吴磊将无法参加五个大联盟。您也可以有自己的态度,并觉得那些"加泰罗尼亚国王"的笑话太惹眼了。
But I always feel that facing such a person who could have a super high salary in the well-funded Super League, but went to Spain to pursue his football dreams, and brought more or less confidence and hope to Chinese football. You can dislike it, but you shouldn't be cynic, or even unreasonable abuse.
但是我总是觉得面对这样一个人,他本可以在资金雄厚的中超联赛中拥有超高的薪水,却去了西班牙追求自己的足球梦想,给中国足球带来了或多或少的信心和希望。您可以不喜欢它,但是您不应该太愤世嫉俗,甚至不应该进行不合理的虐待。
The news that Wu Lei was diagnosed with the new coronavirus this time was initially reported with typical symptoms such as fever and chest pain. But soon official information confirmed that the symptoms were mild and that he was already receiving treatment.
最初报道吴雷这次被诊断出患有新的冠状病毒的消息最初是带有发热和胸痛等典型症状的。但是很快官方信息证实了症状轻微,并且他已经在接受治疗。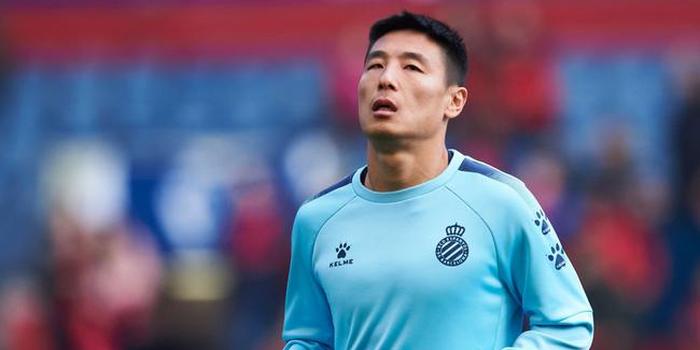 In European football, Rugani and others are asymptomatic virus infections. If it is really asymptomatic and the lungs are not inflamed, then the recovery from the self-immunity will basically have no effect on exercise capacity and normal life, just like "getting a cold."
在欧洲足球中,Rugani和其他人是无症状的病毒感染。如果确实没有症状,并且肺部没有发炎,那么从自身免疫中恢复就不会对运动能力和正常生活产生任何影响,就像"感冒"一样。
Odoi in the Chelsea team was like this before, and now he can start physical training at home.
切尔西队的奥多伊以前是这样,现在他可以在家中开始体育锻炼了。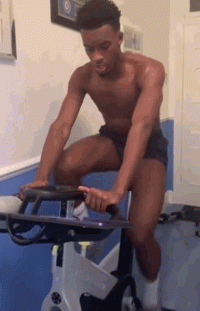 However, if the symptoms are severe and cause an "inflammatory storm", the damage to the lungs is likely to cause irreversible and serious consequences. As a football sport with high intensity and fierce competition, cardiopulmonary function is absolutely vital.
但是,如果症状很严重并引起"炎性风暴",则对肺部的损害可能会造成不可逆转的严重后果。作为一项强度高,比赛激烈的足球运动,心肺功能至关重要。
We all hope that Wu Lei can recover as soon as possible. He has already reported to all Chinese fans who care about him later today. After all, he may be "insignificant" to La Liga, but he is our precious light in the dark.
我们都希望吴磊能够早日康​​复。他已经向今天晚些时候关心他的所有中国球迷报道了。毕竟,他对西甲来说可能微不足道,但他是我们在黑暗中的宝贵光明。
We firmly believe that this light can penetrate all darkness.
我们坚信,这种光可以穿透所有黑暗。